Saint Hedwig's Garage Door Experts
Welcome to Garage Door Masters, your go-to garage door company in Saint Hedwig and the surrounding areas. We are committed to delivering top-quality service, repair, and installation ensuring your garage door needs are met with precision and expertise. Contact us for same-day garage door services today.
Your Go-To Garage Door Company In Saint Hedwig
Our team of dedicated professionals is more than capable of managing all types of garage door situations. We deliver trustworthy services for repairs, installations, maintenance, consultations, and more. Being a well-known name amongst the top garage door companies in Saint Hedwig, we take pride in providing excellent customer service. That's why we always ensure all our customers are content with our work. We partner with premier garage door makers to make sure you get the most suitable products for your requirements. For more details, or queries, don't hesitate to reach out.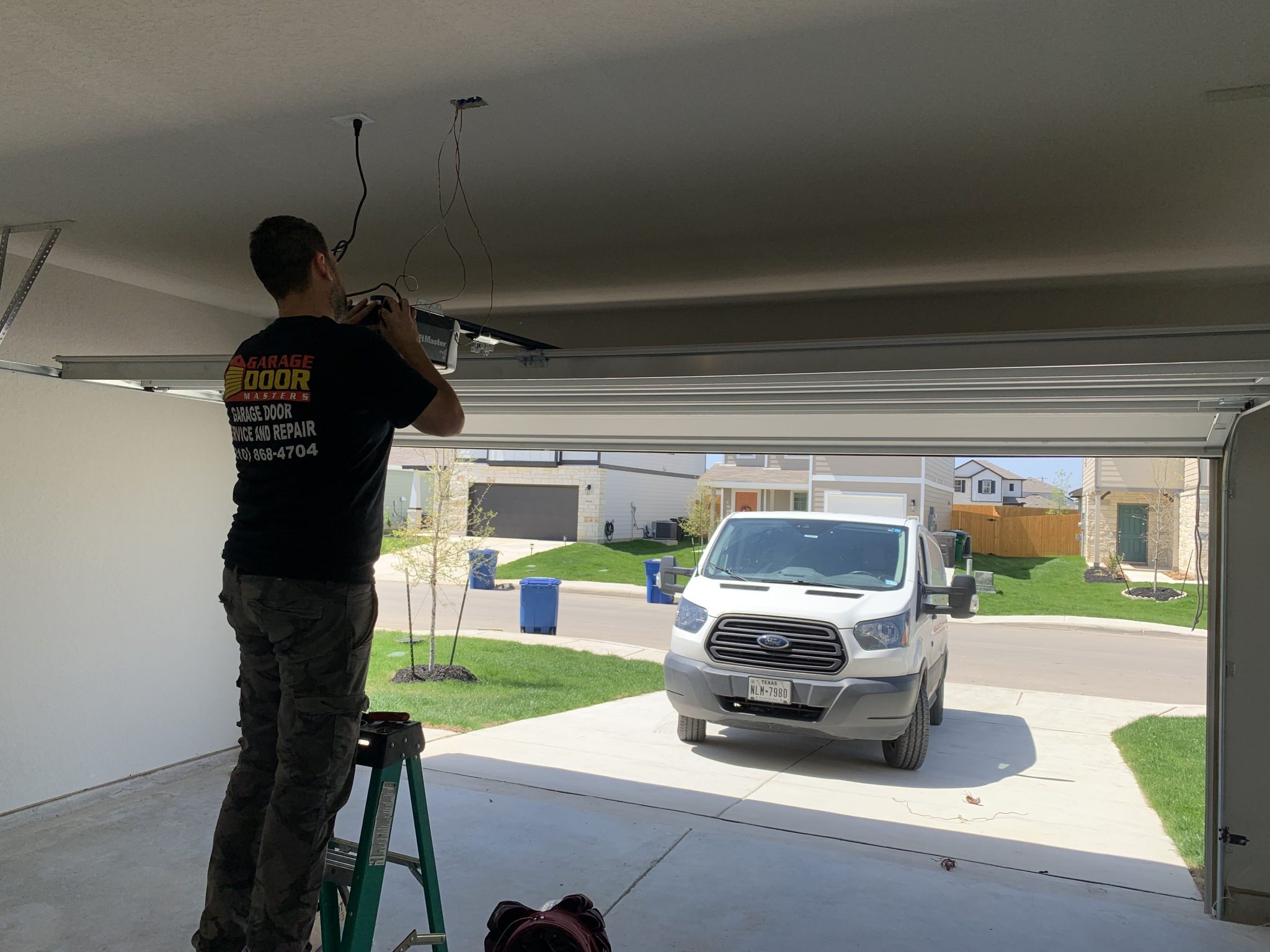 Discover Saint Hedwig's One-Stop Shop For Garage Door Services
Our experienced team specializes in comprehensive garage door services in Saint Hedwig, TX, offering repair and brand new installation.
Searching for a reliable and speedy resolution to your repair needs? Look no further than Garage Door Masters! Our skilled technicians are adept in offering lasting resolutions whatever manner of problems you may be confronting. On top of that, we also provide a 24/7 service for garage door repairs in Saint Hedwig, TX and the areas nearby, ensuring you never experience any impediments caused by a malfunctioning garage door.
Is your overhead door or garage door malfunctioning? We are the professionals to call! Our staff is devoted to delivering quick solutions when it comes to garage door repairs. Assuring quality and satisfaction is our mission for every customer we serve. We are experienced in dealing with different types and models of garage doors and openers; from cables to tracks, springs, and more! Contact us and let us help you get your garage door working properly again.
If you're wanting to upgrade your home or business with a brand-new garage door, Garage Door Masters is the place for you! We have years of experience in providing our clients in Saint Hedwig, Texas with the best installation service around. Not only are our rates competitive, but we also have a wide selection of garage doors that will best suit your needs.
Let Garage Door Masters help you enhance the beauty of your home with their outstanding garage door replacement services. Our competitive prices make us the ideal choice for whichever style or material you pick from our diverse selection. Leave it to our experienced technicians to make sure your installation is done with no difficulties. Benefit from our reliable, professional touch for a refreshing change that will give you the perfect balance between looks and performance.
At Garage Door Masters, we are not satisfied until you are. Therefore, we aim to achieve and exceed customer satisfaction during each service visit. Our end-to-end service approach prioritizes your comfort, ensuring that all your questions are heard and met with a timely, professional response. We stand by our craftsmanship, confident that we will leave your garage door safer, more efficient, and more reliable than before. Your peace of mind following our maintenance service is our ultimate guarantee.
The convenience coupled with the reliability of Garage Door Masters's premium garage door openers is beyond compare. Skip the hassle and go with the smooth, functional openers for seamless everyday use.
Our technicians are right at your service to help you with garage door spring repair and replacement. We make sure that we provide only the finest service and use the best tools and equipment for the job. So don't hesitate to give us a call and our teams will be there to help you out in minutes. We guarantee an efficient and quick restoration of your garage door spring repair needs. With our experience and expertise, you can trust that your garage door spring repair will be done in no time.
Time is essential, and that's why our technicians focus on high-quality, fast response garage door opener repairs, ensuring you get back to normal as quickly as possible, while maintaining optimal safety.
Garage Door Masters offers premier commercial garage door services, specifically designed to meet and overcome your business challenges. We believe in crafting solutions as unique as your business, ensuring optimum door performance.
At Garage Door Master, we take pride in being your trusted partner for all your garage door needs. Our experts understand the value of accurate quotes and estimates that will fit your individual budget and requirements. By calling us today, you will get professional advice and tailored suggestions to make sure your garage door needs are taken care of efficiently.
Take the opportunity to get the most secure garage door solution – reach out to our professionals for a free on-site consultation. We look forward to answering all your questions and helping you find the perfect solution for your property.
Repair, Quote, or Q&A - We're just a message away, with responses typically within minutes.
Mastering Garage Doors In Saint Hedwig
In Saint Hedwig, Garage Door Masters has been providing reliable and affordable garage door repair services for over 20 years. We're a local business that understands the city's garage doors inside and out. Our certified technicians are experienced in handling all types of repairs, big or small, and we're proud to be able to offer same-day service so your door will be back up and running in no time. All of our work comes with a 100% satisfaction guarantee, so you know you're in good hands with us.
If you're experiencing any difficulties with your garage door, let the dependable experts at Garage Door Masters take a look. We'll provide you with an honest evaluation of the situation and offer you the best solution to get your door working again. Give us a call to set up an appointment today and rest assured knowing your garage door is in capable hands.
#1 Garage Door Repair & Install In Saint Hedwig
Saint Hedwig Garage Door Masters has all the tools, practices and abilities to perform any and all garage door needs with complete customer satisfaction. We are your go-to source for garagedoor services and can provide top notch quality anytime you need it. Plus, our 24/7 emergency repair service will fit any schedule. Also, we are licensed, insured and proudly serve the Saint Hedwig, TX area.
Finding the right garage door solution has never been easier! Garage Door Masters offers both residential and commercial services at a price that fits your budget and desired outcome. Get a free estimate to explore all possibilites today! Take your garage door experience to the next level and contact us now for unmatched service.
Looking for the best garage door repair?

Garage Door Masters

is the best for you!