Castroville's Garage Door Experts
Welcome to Garage Door Masters, your go-to garage door company in Castroville and the surrounding areas. We are committed to delivering top-quality service, repair, and installation ensuring your garage door needs are met with precision and expertise. Contact us for same-day garage door services today.
Your Go-To Garage Door Company In Castroville
Garage Door Masters takes pride in our team of committed professionals who are ready to tackle any garage door task with precision and efficiency. Our reliable garage door services cover a wide spectrum, including repairs, installations, maintenance, consultations, and more. As a trusted garage door company in Castroville, we prioritize the satisfaction of every client we serve. By partnering with top manufacturers in the garage door industry, we ensure that you receive high-quality products that meet your needs. If you have any questions, require additional information, or need clarification, please do not hesitate to contact us.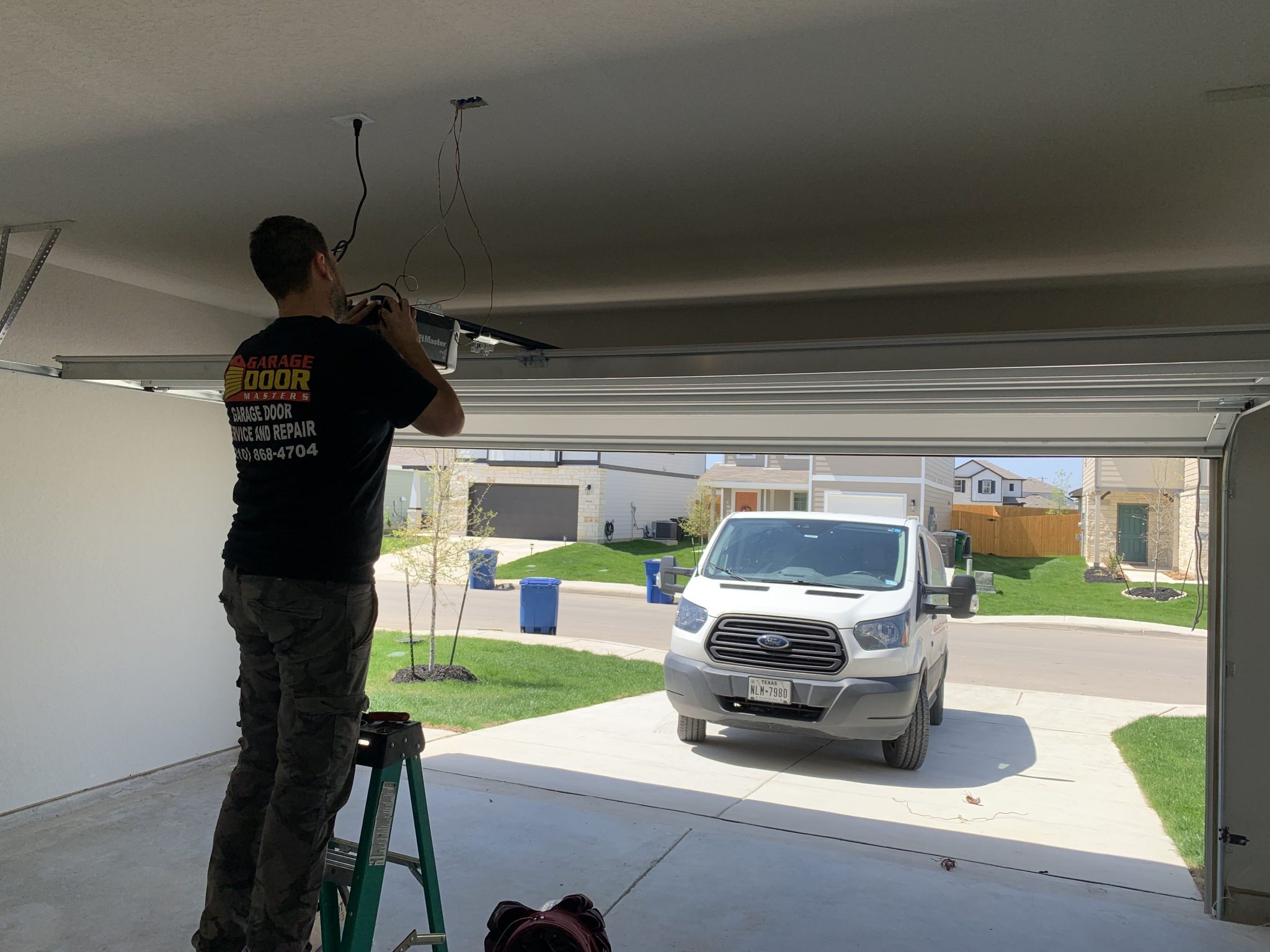 Discover Castroville's One-Stop Shop For Garage Door Services
Choose our garage door services in Castroville, TX for reliable repair and brand new installation.
Looking for a trustable and efficient garage repair solution for your home or commercial space? Your quest ends with Garage Door Masters! Regardless of the hurdles thrown by your garage door, our experienced and competent crew can provide a permanent resolution. Furthermore, we're thrilled to offer 24/7 garage door repair service in and around Castroville, TX, ensuring you're never deserted with a malfunctioning garage door.
Choose Garage Door Masters for prompt and exceptional garage door repairs. Our specialty lies in all garage door varieties, with a focus on delivering unmatched quality and ensuring total customer satisfaction for every job undertaken. Whether it's dealing with intricate cable systems or fixing springs and openers, there's no task our efficient team can't tackle. Enjoy the confidence that comes from our superior service, knowing your garage door difficulties are handled quickly and professionally.
Step up your home's curb appeal with Garage Door Masters' swift, top-notch garage door installations. Our competitive rates and diverse selection of garage doors are tailored to your unique requirements, making us the local, trustworthy experts you can rely on. Our dedicated team is committed to delivering unrivaled service, ensuring a smooth and efficient installation process. Trust in our friendly, professional touch that adds style and practicality to your property.
Is your garage door outdated or in need of replacing? Look no further than Garage Door Masters in Castroville, Texas for all of your replacement needs. We carries a wide selection of new door solutions and our experienced technicians are ready to install your new door quickly and efficiently.
Avoid untimely garage door breakdowns with proactive maintenance from Garage Door Masters. We delve deep into every component of your garage door, uncovering current issues and predicting future ones. Our comprehensive reports empower you to understand your garage door's issues and make informed choices. Our prices are competitive and all maintenance work is handled by skilled technicians. Choose us for a hassle-free garage door maintenance experience.
Upgrade your garage with our premium openers, which integrate smart home technology. Experience the convenience of opening your garage door remotely via smartphone apps, and enjoy features like timers and schedule programming. Maximize your comfort and security with our cutting-edge technology.
When your garage door spring calls it quits, your day can come to a grinding halt. Thankfully, Garage Door Masters is here to put the spring back into your step! We offer speedy, high-quality spring repair and replacement services that redefine convenience. With our quick turnarounds and commitment to excellence, we ensure your door is back in top form in no time. Our seasoned technicians, armed with a full toolkit, provide precise spring replacements that perfectly fit your door.
Our technicians are a phone call away, ever ready to restore your garage door opener to its prime functionality. Our top-notch repair service covers all brands, providing a uniform solution to diverse garage door opener issues.
Dealing with a sudden garage door issue can be stressful. That's why Garage Door Masters is available around the clock, ready to provide swift, professional services. Day or night, our team is prepared to handle your commercial garage door concerns.
In need of garage door services for your home or seeking a comprehensive garage door solution for your business? Garage Door Masters is your dependable company for all things garage doors. We know the significance of precision in garage door quotes and estimates that resonate with your budget and requirments. By getting in touch with us today, you'll get access to valuable guidance and tailor-made proposals that ensure your garage door demands are catered with precision.
Delay no more in embarking on your journey towards a flawless garage door solution. Reach out to our team of seasoned garage door professionals today for a complimentary on-site consultation.
Repair, Quote, or Q&A - We're just a message away, with responses typically within minutes.
Mastering Garage Doors In Castroville
Searching for an honest, cost-effective garage door repair service in Castroville, Texas? Garage Door Masters has you covered. Our squad of skilled and certified professionals can address any repair, regardless of size. We're delighted to provide swift same-day service, enabling you to have your garage door operational swiftly and efficiently.
For more than 20 years, Garage Door Masters has been the go-to company for garage door repair and maintenance in Castroville. As a local business, we're familiar with every facet of the city's garage doors. Our dedication to providing top-tier service to our customers is unwavering, which is why we offer a 100% satisfaction guarantee on all our tasks.
Troubled by your garage door? Reach out to the reliable garage door professionals in Castroville, TX—Garage Door Masters. We're ready and willing to drop by, inspect your situation, provide a straightforward assessment, and outline the necessary measures to get your garage door back to optimal function. Schedule a service appointment with us today.
#1 Garage Door Repair & Install In Castroville
Trust in the profound skills, knowledge, and craftsmanship of Garage Door Masters, your reliable partner for all garage door services in Castroville. We stand behind our work with a 100% satisfaction guarantee, providing superior quality you can count on. Our dedicated team is always ready to assist you with a 24/7 emergency garage door repair service, ensuring your needs are promptly met. As a fully licensed and insured service provider, we uphold stringent standards of safety and professionalism.
Whether you require garage door services for your home or business, we're here to provide a tailored cost estimate that aligns with your specific needs and budget. We're committed to delivering the finest solutions that balance quality and affordability. For a no-strings-attached quote at any time, simply get in touch with us. Step up to an extraordinary garage door experience – reach out to us today for a service beyond comparison.
Looking for the best garage door repair?

Garage Door Masters

is the best for you!